Visiting Portugal, unlike going to a few of her other more touristy, chic and wealthier neighbours in the EU (European Union), brings with it so much less expectation. I left behind any hopes of seeing perfect polished and bucket list type must-see's as I arrived into Lisbon International Airport. In this costal capital city of Lisbon, a low travel expectation coupled with scenes of colour everywhere, makes for an interesting adventure ..
As the historic centre of the vast Portuguese speaking nations, Lisbon city is a place that has been through a lot. Given the intense history together with her regional Spanish siblings in the Iberian Peninsular, the fusion of many very different cultures and religions over the centuries has led to an interesting scene here. I hoped to sample some unique bits of Portugal and Lisbon. Portuguese egg tarts (custard pastries), bacalhau (salted cod fish) and Fado music - bring it on!
In Lisbon, there are electric trams everywhere. Some are very old; really old and stuffed full of people and pickpockets. Graffiti of all types line the side streets. Colour is splashed everywhere. Especially the colour yellow - sunny, bright and bold.
Ok, so it took us a bit to get here straight out of Spain on this late summer's day. First, things first, we had to grab a nice cold one. Where would a tourist go to get a drink? The beer museum of course! Being right by the praca (Portuguese: square), they made it all too easy for us to drift straight on in. Not the cheapest place for a drink, but hey, we were on vacation. Tsk, tsk, so many choices, but I just needed one.
Before nightfall came, we managed to slip in a last minute dinner reservation. We were going do a "Michelin 2-star" for dinner.
Well, not really Michelin 2-stars. The Mini Bar Theatre it is on the Michelin food guide, but it is not stared (yet?). It has a chill ambience and is an interesting place, where nothing is what it seems.
Fairly "casual" relative to other Michelin star places, it has a bar and a restaurant. It is called a theatre, because the place is inside what used to be a theatre building (built in back in 1894), which has been through a major make over. The Epic Menu, a blind degustation meal of sorts, was superb. The food was a true artistic performance. Olives were not olives; peanuts were not peanuts; chocolates were not chocolates. Just like Lisbon, this restaurant and the food here is unexpected! The place is owned by renown Portuguese chef Jose Avillez. If you are of the well-heeled type, head over a couple of blocks to Jose's main restaurant Belcanto, a Michelin 2-star restaurant.
The next morning, like brave Portuguese explorers who founded many new lands during the age of sail and Discoveries, we headed out of our affordable-classy Booking apartment to discover the gems of this city and "unearth" her treasures!

We surveyed the charming shopping streets of Chiado. There is a vibe here that says cool and vibrant - much like Lisbon and Portugal in general. On the hilly roads are the old classic cars, along with the modern Wi-Fi emitting electric ones.
Close to the top off this hill, we found the Carmo Convent. She lost her roof during the great Lisbon earthquake (1755). That deadliest quake, along with its powerful tsunamis and asphyxiating fires, claimed over 10,000 (possibly up to 100,000) lives. That quake almost completely destroyed this city. Up to this day, many historic landmarks in the city bear its scars. We pay the small entry fee and had a look around inside the small museum.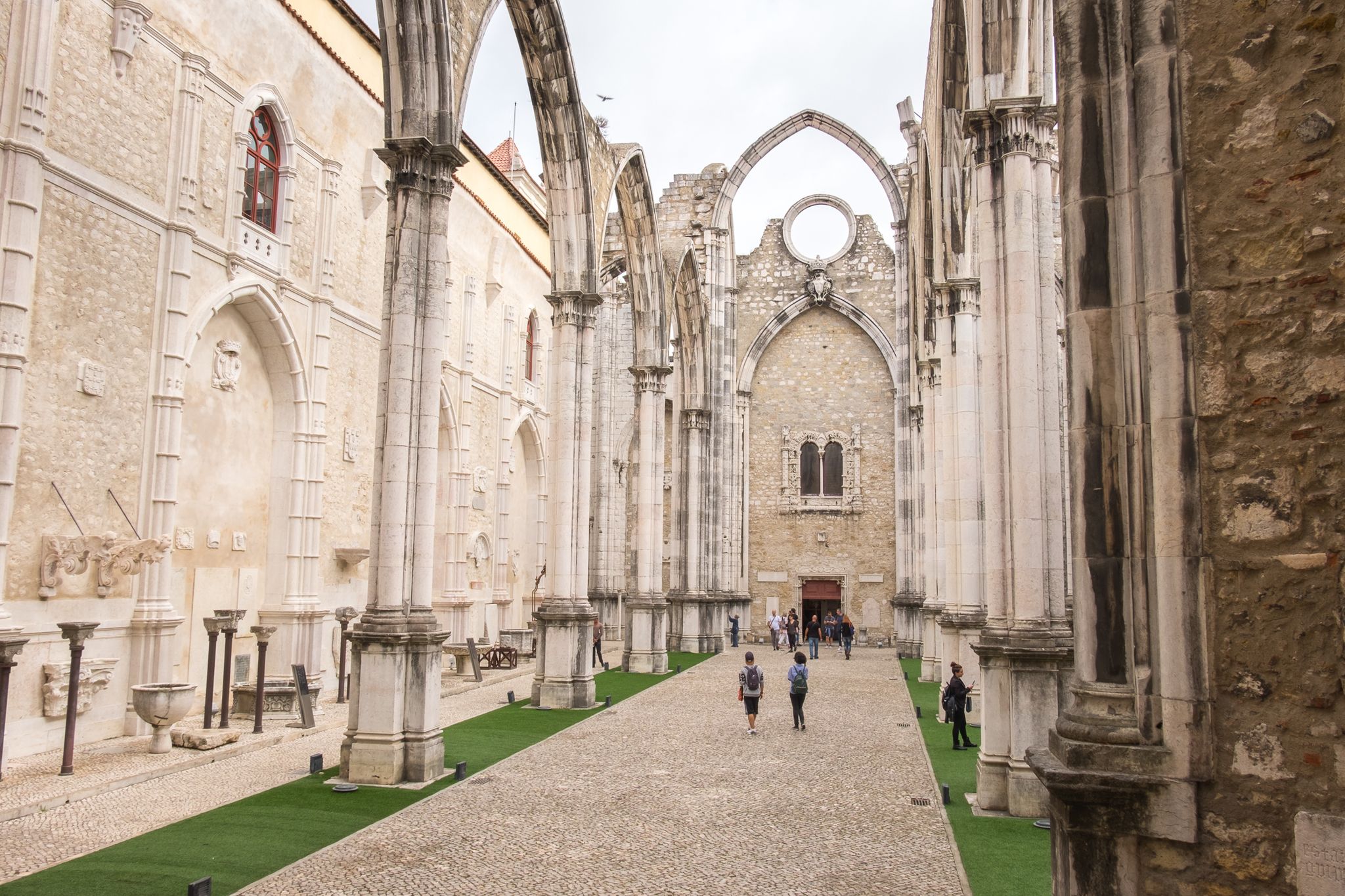 Outside the convent, and around the back is a nice view. We saw colourful buildings and the most famous landmark in Lisbon city. There it was, the elegant Santa Justa Lift. If the Effiel Tower in Paris had a Mini-Me, this would be it. Also made from ironworks, it was built to help folks move quickly between lower and higher Lisbon. These days, you will need to join a decent queue just to ride up this elevator.
We took the free express elevator (behind the Carmo Convent) down instead. The elevator doors opened. The sound of music. Sweet Halleluja.

Not quite live local Fado music, but sweet sounds of acoustic guitar and the moving voice of Janileigh Cohen (Bolton, UK, big fan of Leonard Cohen) filled the street, and charmed our hearts.
We were getting hungry and it was time to head over to nearby Belem - source spring of the global Portuguese egg tart phenomenon and home of the monks who first made them.
After hitting the Pasteis de Belem for our fill, we entered the Jeronimos Monastery. An impressive place with high ceilings and an amazing dimly lit church - a structure which reminded me of the huge mountain cavern with the Balrog in Lord of the Rings.
There are a few unmissable monuments along the river Targus here. Some more unmissable than others ..
We made a day trip out to nearby Sintra. An underserved bus route, challenging mountain paths to navigate and more unexpected charms fill this lovely town. The Pena Palace, Moorish Castle and the Sintra National Palace followed by a seafood dinner back in Lisbon made for a great day.
We ran out of time to visit the old Alfama and dance to Fado on this trip. But even then, we left Lisbon bringing away feelings of happiness and cheer.
Muito obrigado Lisboa (many thanks Lisbon).
Happy travels!

p.s. Like more details to make your own trip spectacular? Check out our 5 Days Lisbon Itinerary.