itinerary: a planned route or journey - Google
So you are planning a trip, either for yourself or someone else.
1. Sign in to Travaa.com
Browse to the Travaa travel itinerary planner website.
Sign up/in and click: add a new trip.
Enter your destination City/Country. The web tool opens up a fresh new clean canvas with an empty map of the area next to a day-by-day calendar schedule.

Follow the short "Tour" to quickly get a good feel for the key features of the tool.



2. Add Places and Activities
Next, start filling up your travel plan:
i. Add places: Enter the names of places you will like to visit in the Place Activities panel (on the right hand side). The names of these places will auto-complete as you type them in. You can change anything in this panel for each place/activity. Don't like the name, description or photo? Change it!

ii. Drag activities around and to expand/contract their time duration: on the calendar schedule. Use the new Places tab on the side panel to find best places to visit. You can drag these on to your schedule too.

When a legit place is added, it will be shown on the map. The colour for the place and its map marker automatically follows the day in which that place/activity is scheduled for.

After adding a few places and dragging things around, start grouping places nearby for visiting on the same day.

Very soon, you will have a decent draft, which could look like this ..

Keep iterating and adding new places. Soon you will have a masterpiece of a travel itinerary!
When you feel confident about the amount of time you want to spend at each area, free to start making bookings directly with your favourite hotels and get tickets for very popular activities.
3. Print Travel Itinerary

A week prior to trip departure. Print out a copy of your trip itinerary and/or email PDF copies to yourself/others.
4. Open Travel Itinerary on Your Phone (with GPS Map)
With a decent smart phone, get the Travaa viewer app from the Apple or Google app store. Sign in and you will see your itinerary there. All new changes go to your phone each time you open the app - within a WiFi / data network area. Once the itinerary is on your phone, you are all set to start wandering.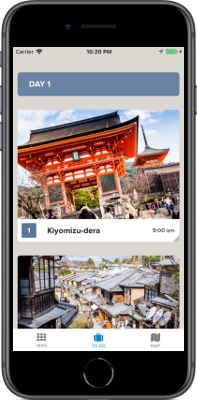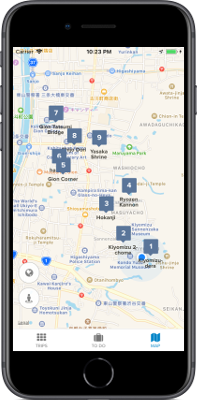 The app shows you where you are on the map (blinking blue dot), along with the exact locations of all the places you want to visit. It does this by using the GPS location info which comes from the sky - no WiFi or data is required for this.

To use the advanced navigation feature - Google or Apple Directions (which provides detailed route directions to get to the next place) - have data roaming or carry a Pocket WiFi with you. Tap on the app button on that place to bring up Directions on your phone.
When you arrive at a place, open the app and give it a few seconds to sense you location. You will see your notes for that place pop up.
Simple.
* * *
Congrats, you are now ready to start making you own itineraries!
Got questions? Let us know via this contact form.

Awesome travels!