Congrats, you have decided to go on a trip!
Preparing a rough trip plan (a.k.a. itinerary) before you go allows you to to make the most of your time and relax when you are there.
Here are a few steps to make a trip itinerary ..
1. Sign in to TRAVAA.com
Browse to the TRAVAA travel itinerary planner tool. Sign in and click "Add Trip".
Follow the "Tour" and you will quickly get a good feel for the key elements of the tool.
2. Fill up your Schedule
Travel planning is a fun ongoing process of finding interesting places to visit and things to do and stringing them together.
Enter the places you would like to visit in the Place Activities panel on the right.
Refine your travel plan over time and create a truly unique travel experience for yourself and loved ones.
Within no time, you could have a draft schedule which might look something like this ..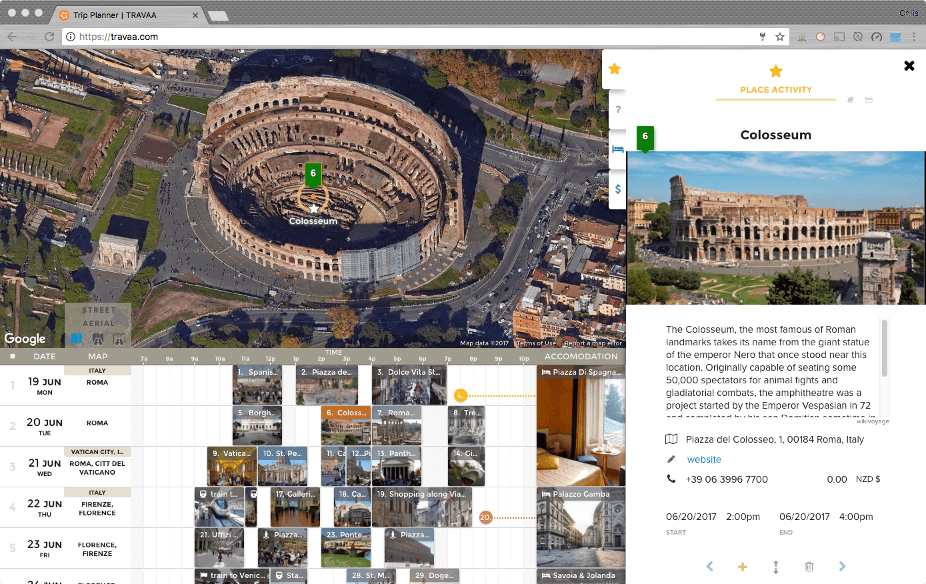 3. Enter some costs
If you are into budgeting .. enter the cost for each place activity into the panel on your righthand side. Clicking on the '$' tab in the panel, brings up a budget estimate in your selected BASE currency. This will provide you with a quick feel for how much your trip is going to cost.
4. Publish your trip
When you are done authoring your upcoming adventure, hit "Publish" (in hamburger menu panel at far top-left) to share your travel itinerary with friends, loved ones and the rest of the world - via your very own instant travel web page!
5. Print travel itinerary
With a week prior to trip departure, print our your itinerary and pop it into your backpack or email a PDF to yourself and rest of the group.
Bon Voyage!
We wish you a great trip! Take plenty of photographs and have an awesome time seeing new places and making new friends!
"We live in a wonderful world that is full of beauty, charm and adventure. There is no end to the adventures we can have if only we seek them with our eyes open." – Jawaharial Nehru